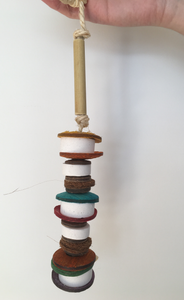 Calcium Coco Kabob
Regular price
$19.00
$0.00
Tax included.
This toy has some coconut pieces, calcium treats,  and pieces of wood. Suitable for medium and larger birds, such as conures, galah, cockatoo, and african grey. Coconut is quite hardy and hopefully will last a while before being destroyed.

🦜good for medium to bigger birds and keen chewers. The toy is 43 cm long
Please be careful when introducing new toys to parrots as they are often scared of new and unfamiliar things. Here's one approach on how to introduce new toys to parrots.
👆Monitor all toys and the parrots playing with them to ensure they are not eating any loose strands.