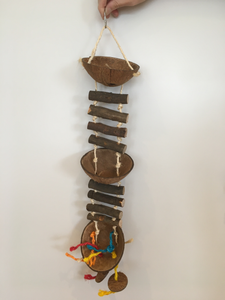 Coconut Feeder with Ladder
Regular price
$38.00
$0.00
Tax included.
Coconut halves serve as feeder bowls on this dangly toy. The natural rope is interspersed with pieces of wooden branches and smaller coconut shells. Coconut is quite hardy and hopefully will last a while before being destroyed.

🦜can be used as a treat bowl.
The toy is 70 cm long and 12 cm across.
Please be careful when introducing new toys to parrots as they are often scared of new and unfamiliar things. Here's one approach on how to introduce new toys to parrots.
👆Monitor all toys and the parrots playing with them to ensure they are not eating any loose strands.