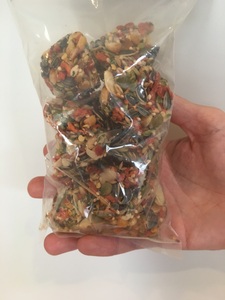 Parrot Picks Treats - Vital Veggies
Regular price
$14.00
$0.00
Tax included.
Small treats for parrots.

One or two treats per day per bird, depending on the size of the bird.
Each pottle contains ten treats. Keep in a cool, dry place.
New Zealand Manuka honey, chili, peas, almond, carrot, pumpkin seed, garlic, popcorn, parsley, New Zealand canary seed, white French millet, barley, hulled oats, safflower, linseed, oilseed rape, and gelatin.