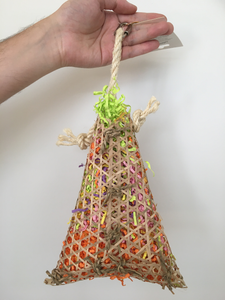 Shredder Basket
Regular price
$22.00
$0.00
Tax included.
A larger bag filled with shredded paper that would be fun for a bird to forage from. Sneak in some treats for them to find. When they eventually pull out all the paper, you could refill it with other paper or other interesting things.

🦜Suitable for medium and smaller birds, such as budgies, conures, lorikeets, and cockatiels. Bigger birds can also play, but monitor that they don't just destroy the basket itself and miss out on the foraging opportunity.
The toy is 23 cm long and 15 cm wide.
Please be careful when introducing new toys to parrots as they are often scared of new and unfamiliar things. Here's one approach on how to introduce new toys to parrots.
👆Monitor all toys and the parrots playing with them to ensure they are not eating any loose strands.