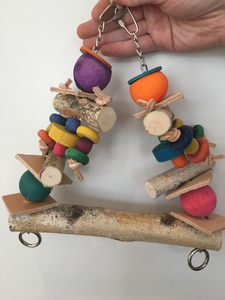 Small Birch Swing
Regular price
$44.00
$0.00
Tax included.
Pieces of birch, bael fruit woody shell, and vegetable-tanned leather decorate this fun birch perch. It can be used to sit on and to swing on and to chew. The two attachments allow you to configure the swing in different positions to provide variation for your birds.

🦜 The toy is 26 cm long and 25 cm across. The bar is 5 cm in diameter.
Please be careful when introducing new toys to parrots as they are often scared of new and unfamiliar things. Here's one approach on how to introduce new toys to parrots.
👆Monitor all toys and the parrots playing with them to ensure they are not eating any loose strands.