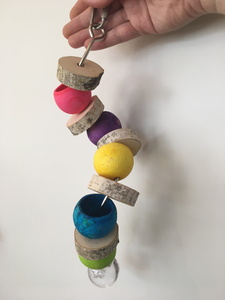 Surprise Skewer
Regular price
$40.00
$0.00
Tax included.
Pieces of birch are interspersed with bael fruit woody shells on a curved metal skewer. Once all the pieces are chewed up, you can keep using it to add fruit and vegetables, just unscrew the bottom bauble.

🦜 The toy is 30 cm long and 5 cm across.
Please be careful when introducing new toys to parrots as they are often scared of new and unfamiliar things. Here's one approach on how to introduce new toys to parrots.
👆Monitor all toys and the parrots playing with them to ensure they are not eating any loose strands.