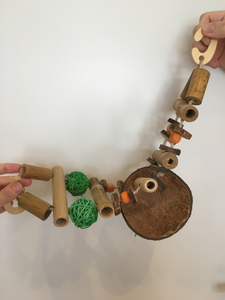 Chewy Play Ladder
Regular price
$26.00
$0.00
Tax included.
It's a rope bridge, it's a ladder, it's a whole lot of fun. You can hang it down, you can have it across, you can poke bits of fruit into the little logs, or hide nuts inside the balls. Lots of variety for your birdies.

🦜Suitable for medium and smaller birds, such as budgies, conures, lorikeets, and cockatiels. Bigger birds can also play, and it would be fun for them to chew.
The toy is 48 cm long and 13 cm wide.
Please be careful when introducing new toys to parrots as they are often scared of new and unfamiliar things. Here's one approach on how to introduce new toys to parrots.
👆Monitor all toys and the parrots playing with them to ensure they are not eating any loose strands.