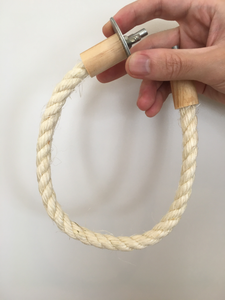 Rope Perch
Regular price
$15.00
$0.00
Tax included.
Bendy rope perch, to offer more options to exercise your bird's feet. The rope is made from sisal, it has a rough feel. The ends are capped with wooden blocks and metal attachments for securing to a cage.
🦜Suitable for all bird sizes.
The perch is 40 cm long and 1 cm in diameter.
Please be careful when introducing new toys to parrots as they are often scared of new and unfamiliar things. Here's one approach on how to introduce new toys to parrots.
👆Monitor all toys and the parrots playing with them to ensure they are not eating any loose strands.