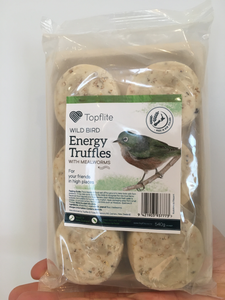 Wild Bird Energy Truffles - Mealworms
Regular price
$14.00
$0.00
Tax included.
Treats for wild birds. Not suitable for pet parrots. Provides an immediate source of energy often essential for survival during breeding or winter months.
A complementary feed for wild birds, such as starling, blackbird, and thrush.
You can crumble these and serve on a dish, or just scatter on the ground. Ensure that fresh water is available for the birds.
540 g.  Store in a dark, dry place.
Wheat flour, vegetable fat, peanut flour, mealworms.
Protein 7.1%, Fibre 2.3%, Fat 28.4%, Ash 0.7%